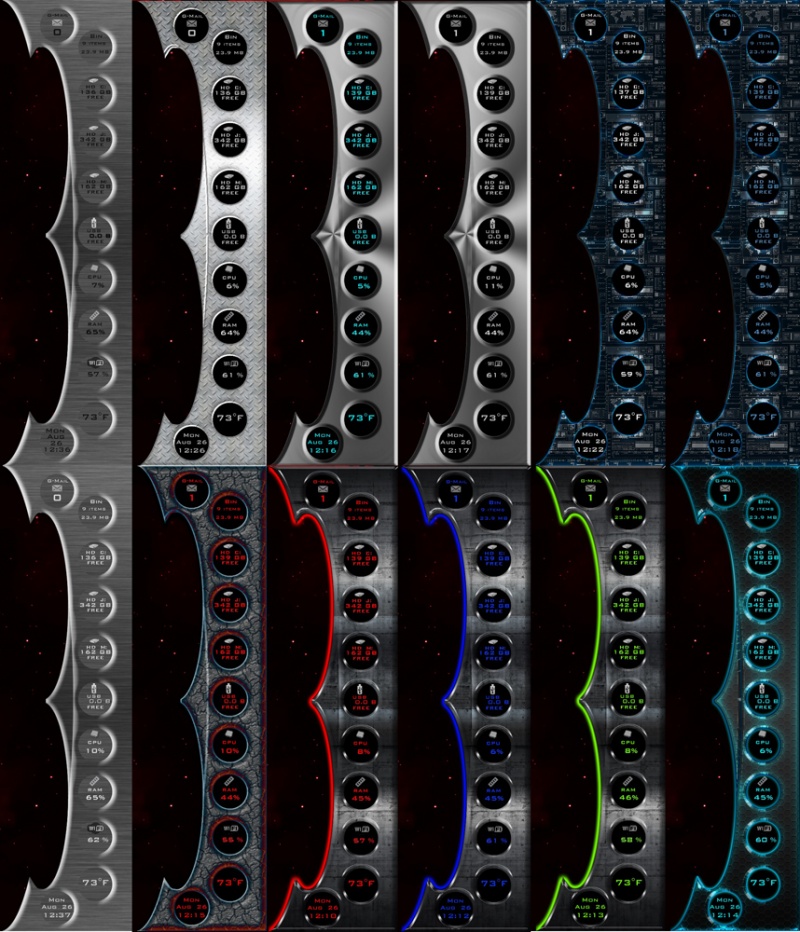 Blade Sidebar v2.0 ffor Rainmeter
By
Ionstorm_01
---
This is the Blade Sidebar that was first seen in my 'Metal Gear Rising Rainmeter Desktop'
[LINK]
THIS SKIN WAS DESIGNED FOR 1080 RESOLUTIONS! It will fit other resolutions but font sizes during the re-size may change the look of the intended skin. Some minor alterations in the alignment of the font code may be required to match your desktop resolution.
Blade v2.0 was created with Rainmeter 3.0 BETA (r2090) and can be downloaded FREE from here:
[LINK]
DIRECTIONS:
Double click the Blade Sidebar to bring up the configuration menu.
These are the user config options:
Background - Select a background number:see the backgrounds preview to get the number.
Text Color - Set a text color to match the selected background.
Drives - Add your drive letters here: A to Z depending on how they show up in the 'Computer'window.
Gmail User name and password - Allows the meter to monitor your Gmail account.
Location - Your weather code from weather.com.
Type - F for the USA, M for the rest of the world!
The font color codes to match the skins are:
White = 255,255,255,200
Black = 0,0,0,255
Red = 255,3,3,255
Lt. Blue = 75,144,198,255
Blue = 15,54,253,255
Neon Green = 114,255,0,255
Teal = 0,243,251,255
Change Log:
v2.0
Increased click field for G-Mail.
Increased click field for WIFI. Clicking will bring up Network Connections.
Clicking Weather will bring up Weather.com.
Modified clock. Added Month, Day and Date. Clicking brings up Control Panel.
Cleaned up background image quality.
Removed unneeded fonts.
Removed USB code.
Added Hard Drive #4 to replace USB.
Added Config Menu.
Added auto re-sizing code to match other resolutions.
v1.1
Cleaned up the code and done some rearranging.
Fonts in easy to see Black & White.
Includes:
Gmail notifier
Recycle Bin
'4' Drives (Easier to edit & configure your dives with the new menu!)
CPU
RAM
WiFi
Weather - Celcius or Fahrenheit
Digital Clock with Day of the week.
This skin was originally designed to accommodate the animated globes found in my 'Dragons Lair'
[LINK]
skin but I decided to release them in a later version.
Personal thanks to GSW953 for his tireless efforts with this version. Without his efforts the auto re-size and configuration menu modifications never would have happened! Also a big thanks to ZaKycooL for his original auto re-size code. Without his ides this version never would have been impossible! Also, thanks to fediaFedia for the config tool.
[LINK]
Please feel free to comment & FAV if you like it!
Comments: