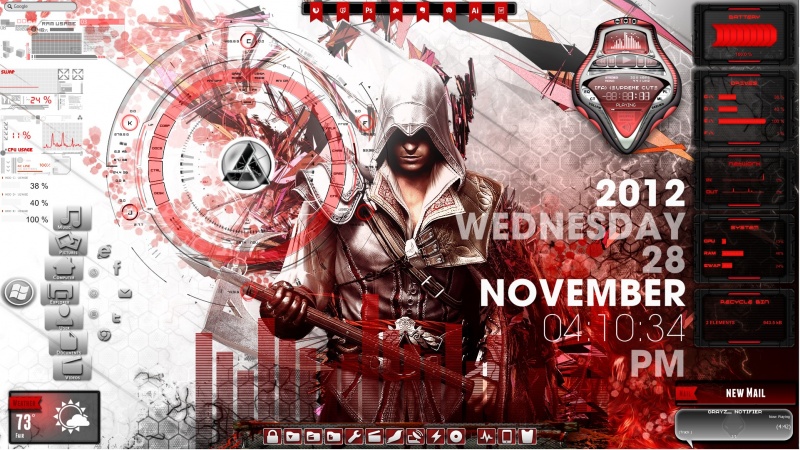 Assassins Creed Desktop for Rainmeter
By
Ionstorm_01
---
This skin package was designed to fit a screen resolution of 1920 x 1080.
Credit for these skins go to the original owners.
This skin is a collection of skins from various artists. It has their complete skins and hasn't been thinned down. The entire collections are featured in this skin. Without their hard work this collection would not be possible.
Wallpaper included in the @ResourcesWallpaper directory
Special thanks to SyanArt
[LINK]
for the use of the wallpaper. Used with his permission! Check out his gallery for more AWESOME artwork HERE:
[LINK]
Included in this skin is a special Login background and wallpaper that I recommend made by
[LINK]
SamirPA. You can preview these HERE:
[LINK]
[LINK]
[LINK]
He made these especially for this skin!
Thank him for his hard work!
Clock:
[LINK]
Appz Bar, G-Mail & Weather:
[LINK]
Google Bar:
[LINK]
CPU, RAM, SWAP, Drives & Battery:
[LINK]
Battery, Drives, Network, System & Recycle Bin:
[LINK]
Calendar:
[LINK]
Start Menu:
[LINK]
Center Drive Menu:
[LINK]
Rocket Dock:
[LINK]
Dock Icons:
[LINK]
WinAmp Skin:
[LINK]
Equalizer for Samurize:
[LINK]
Check out my gallery for more skins like this!
[LINK]
Comments & FAV's appreciated!!!!
Comments: