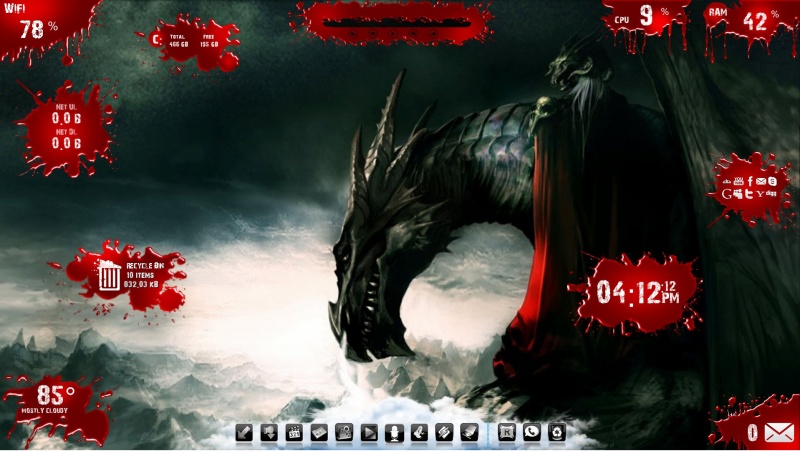 Ravenous Desktop for Rainmeter
By
Ionstorm_01
---
This skin package was designed to fit a screen resolution of 1920 x 1080.
This skin was packaged with the newest Rainmeter beta version you can download here:
[LINK]
Ravenous for Rainmeter is my first attempt at a Rainmeter skin. I have done multiple desktops with other designers skins but this one is mine.
This design was inspired by the idea that the corners and the top of the screen of most desktop skins are abandoned and unused. It's wasted space. Plus there are no FUN Halloween designs available that I have seen!
To make it fun I decided to spice it up. With a little design help from Silver Beast we conjured up 45 skins with lots of options. For instance, the Network and G-Mail skins can be placed on any corner you wish. The design background is different on every skin! The WiFi skin is also designed to be placed in the top corners!
Some skins are splatters to be placed anywhere on the desktop while others can only be docked in corners or at the top.
Every skin has TWO text variants, Black or White!
Silver Beast added his wonderful artistic flare and together we designed special FUN skins for that scary look. Syringe RAM, Bloody eyeballs CPU, nuclear bug drives, toxic trash, bloody rain weather skin & a bloody Winamp player.
Included in this package: (45 SKINS)
CPU
Drives
G-Mail
Network
WinAmp Player
RAM
Recycle
Social Icon Panel (10 Links)
Time (Analog & Digital)
Weather
Wireless
Please comment if you download. Let me know how you like it!
FAV's are APPRECIATED!!!
Visit my other work:
[LINK]
Thanks to Silver Beast for his support & design flare:
[LINK]
Thank you fellow Deviants for your support!
I have been told by a particular group that this skin is too dark and they will not accept this submission even for Halloween! Please comment and let me know how you feel!