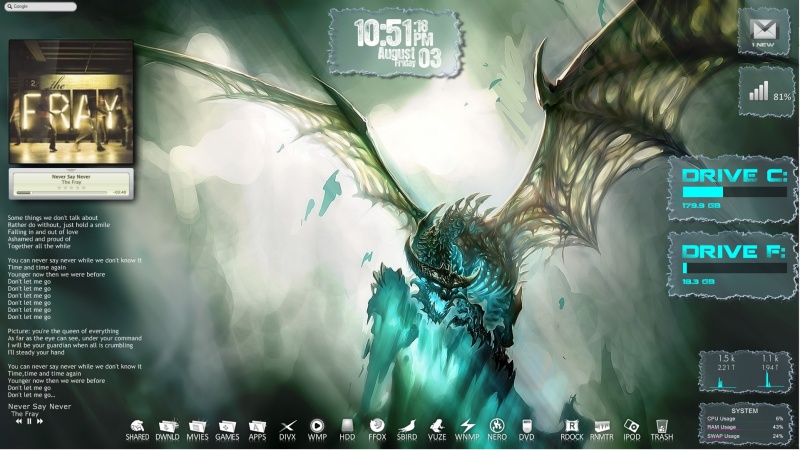 Conjuring The Bone Dragon Rainmeter Desktop
By
Ionstorm_01
---
This desktop is set up in a screen resolution of 1920 x 1080.
The myth is that a wizard conjured the first dragon. This desktop reminds me of that HUGE mistake! Check out the tiny Mage at the bottom of the screen!
Since my first dragon post was such a huge hit I decided it was worth a follow up.
[LINK]
This desktop required modding almost all of the original skins changing the colors and adding background images. Thanks to bmf1990
[LINK]
for his vision and artwork using his skins.
Credit goes to all the original designers for their hard work.
Wallpaper:
[LINK]
Drives & G-Mail (Modded):
[LINK]
Wifi (Modded):
[LINK]
Network (Modded):
[LINK]
Google Bar:
[LINK]
System (Modded):
[LINK]
(This artwork made this desktop possible!)
Clock (Modded):
[LINK]
Lyrics:
[LINK]
CAD Player Skin called 'JPS':
[LINK]
Rocket Dock:
[LINK]
Rocket Dock Icons:
White:
[LINK]
Black:
[LINK]
FAV's, credits and comments to myself and other artists appreciated!
PLEASE READ!
If any one skin package fails to load, move the subfolder package out of the bone dragon folder to the main root directory. It's a variables issue. Keep in mind that I didn't create these skins. Just modified them for my own use. I am sure someone will come up with an off the wall comment about the coding so don't bother. I never intended to share these mods publicly.)
I recommend that you download the full skin package of each skin to benefit from their remarkable work!
Thank You!