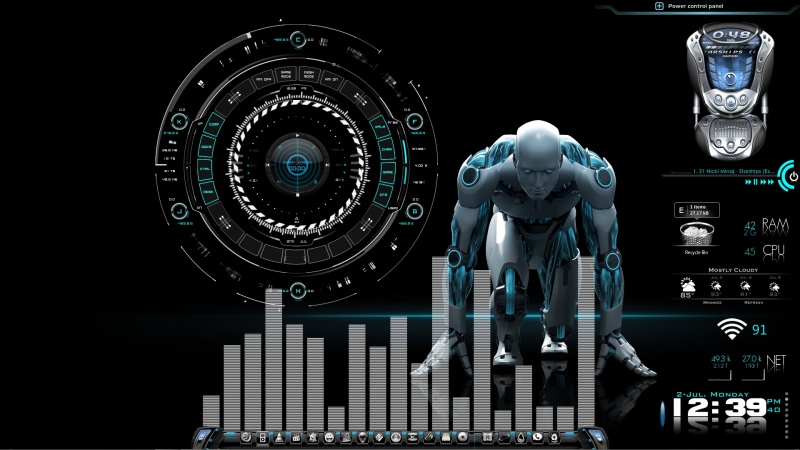 Robo-Tech Desktop for Rainmeter
By
Ionstorm_01
---
This desktop is set up in a screen resolution of 1920 x 1080.
This is the Rainmeter skin package for my first screenshot submission:
[LINK]
Change Log v1.1: Added Scalpi auto scrolling lyrics by Flipside. Thank you Flipslide for all your hard work!!
Love 2 customize my PC. Never happy with a look 4 2 long. I use Samurize, Rocket Dock, Sysmetrix & especially Rainmeter. I love 2 mix & match wallpapers, fonts & themes 2 get that unique look 4 my mood. I have '7' hard drives and I tell people that my computer can stand up and bark if I wanted it 2. My current desktop has alot of Rainmeter skins but I still like the look 2 be clean and fresh. No clutter. I found Rainmeter because I have so many drives and I wanted 2 access them easier. Currently using Tech-A Rainmeter skin because I can access all of my drives and still have a fresh clean tech look.
I don't like icons on my desktop. I use Rocket Dock for all my icons 4 quick access.
And yes, I have 3 different media players on my desktop. Still trying to see which one is most effective.
None of this is my work. I just modded others hard work for the colors I wanted.
Wallpaper:
[LINK]
Equalizer:
[LINK]
Center Dock (Modded):
[LINK]
Weather:
[LINK]
RAM, NET & CPU (Modded):
[LINK]
Shutdown:
[LINK]
WinAmp (Modded):
[LINK]
WinAmp:
[LINK]
Recycle Bin:
[LINK]
Lyrics (Auto Scrolling):
[LINK]
WiFi (Modded):
[LINK]
Xion Player Skin:
[LINK]
Rocket Dock:
[LINK]
Rocket Dock Icons:
[LINK]
Comments: