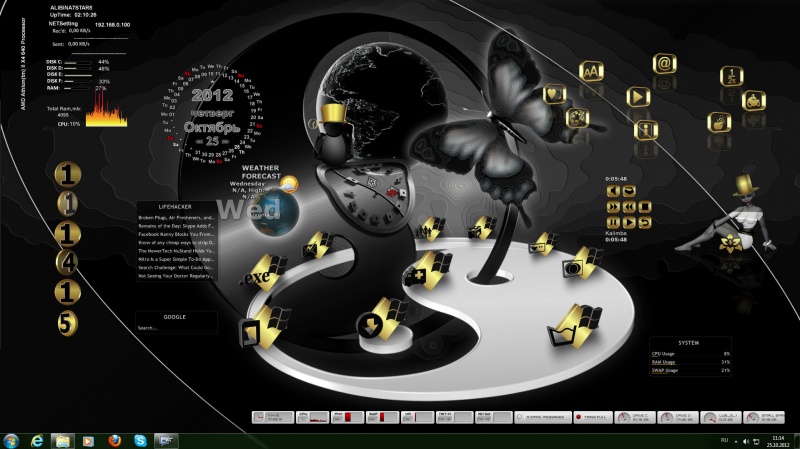 ActiveDX
By
Kostiantyn
---
DesktopX theme ActiveDX is analog of DX of theme 'rZE', all in one with expanded possibilities.
[LINK]
(Zip file content:wallpaper 1900x1200,1900x1080, Icons images set.)
To Build it You need icons images set,gadgets, widgets,wallpaper, raimeter and (or) Sys Metrix.
My gadgets see
[LINK]
See Theme video
[LINK]
- The user can remove or add objects.
- Switch on/off Rainmeter and SysMetrix
- Switch on/off Gadgets and Widgets.
Theme Tutorial
-Drop Pictures and Add Or Remove Objects
[LINK]
-Switch onOff Rainmeter and SysMetrix
[LINK]
-Switch onOff Gadget
[LINK]
[LINK]
-Switch onOff Widget
[LINK]
DX Themes 'ActiveDX_advanced' and 'ActiveDX_expert' find
[LINK]
Best regards.Kostiantyn
Comments:

2

0

0
Details
| | |
| --- | --- |
| Category | DesktopX Themes |
| Uptime | 1 decade |
| Submited: | 30.10.2012 |
| Resolution: | 1919x1079 |
Statistics
Social
---
Awards: