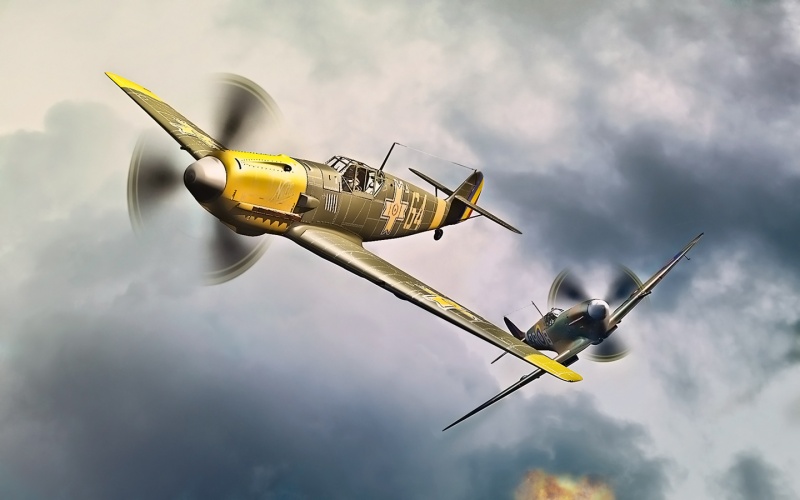 Bazu
By
kenwas
---
Constantin "Bazu" Cantacuzino - The Prince of Aces
He had 60 victories and was the highest ranking Romanian ace. He is probably one of the few pilots, if not the only one, that shot down Soviet, US and German airplanes, ranging from the I-16, the Yak-1,3,7,9, the La-3,5, the Spitfire, the P-38 and P-51 to the Fw-190F, due to the fact that Romania started the war with the Axis powers but later switched to the Allies as the situation in Europe changed.
The scene depicts Bazu escaping from an oncoming Spitfire having shot down two others and having his own Me 109 damaged. Action on the Crimean Peninsula near the Sea of Azov.
After the war, the USSR imposed a communist regime that started confiscating private properties. 'Bâzu' lost all its land, He managed to escape to Italy in 1947 and then he settled down in Spain. There he was helped by the Romanian community to buy himself an airplane, in order to earn his living at air shows. He died on 26 May 1958.
His wife at the time of his death was an actress. She emigrated to the USA and settled down at Hollywood and married there. She had a daughter who later became Miss America and stared in the 'Dallas' show as JR's wife: her name was Linda Grey.
The zip contains 1920x1200, 1680x1050, 1440x900, 1280x800, 1600x1200, 1280x960, 1024x768.
Vue 8.5
Comments: