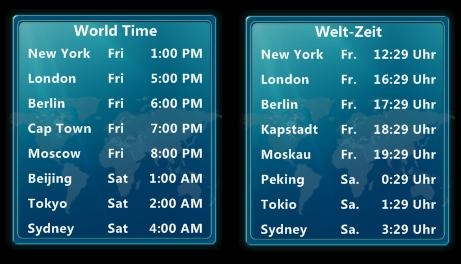 World Time 1.0 - eng. + ger. by ~jxns66
By
jxns66
---
World Time - english + german
8 different Background. Colors: windows7, red, darkblue, blue, teal, green, orange, gray.
Installation:
Skin for Rainmeter program only.
Optimized for screens of 1600 x 1050 and 1600 x 1200 px or more.
Download and Install "Rainmeter"
Simply copy all folders in your /Rainmeter/Skins directory.
Start up rainmeter and select the skin.
Rainmeter Software Download:
[LINK]
Comments are welcome.