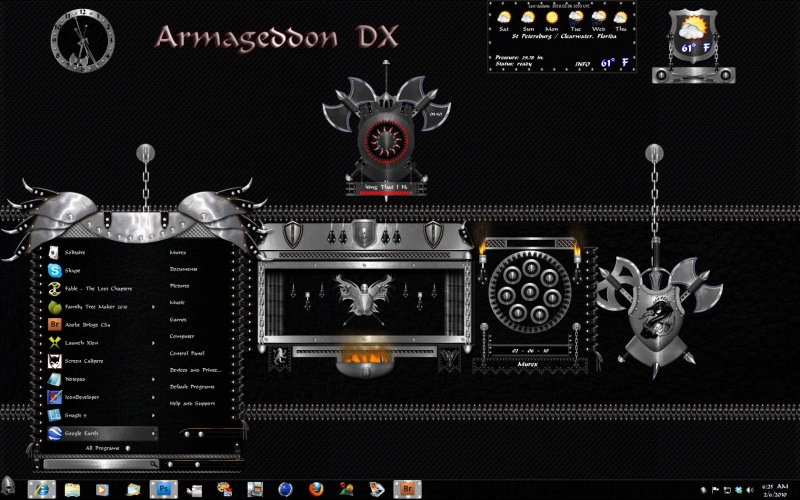 Armageddon DX
By
Murex
---
Armageddon DXTheme made to go with Armageddon Windowblind by Xiandi
This theme was made with DX V. 4 in Windows 7. Will run on most resolutions.
Includes Weather, Clock, Calendar along with sliding menus popup calendar and animated flames.
Also includes a new recycle bin button that on left click allows you to view bin contents right click
will empty. Script by sViz
Not included, any meters as the plugin meters don't seem to work for me.
If I find a script or Dx includes working meters I will make them.
Wall is not included
All leather straps, spikes, buckles and leather loops were created by Xiandi.
Permission included in Zip. Graphics in the weather object where included
in the weather template by sViz as were the scripts. The rest of the graphics
were created by me.
I would like to thank Xiandi for the privilege of working with her on the creation of this DXtheme .
My idea was to create a theme that would blend in with her blind. I think I have managed to do so.
I hope every one enjoys Armageddon DX. And thank you for downloading it.
Thank you Cyndie it was fun and enjoyable working with you.
All scripts were either made by sVis or Martin. Thank you both. A special thanks to sViz for help with the recycle bin.
Thanks go to Xiandi and RedNeckDude for helping test my theme. Thanks Jim for helping me get the weather right.
Armageddon Blind by Xiandi here
[LINK]
Xion Here
[LINK]
Armageddon Docks here
[LINK]
Armageddon wall 1 here
[LINK]
Aramageddon wall 2 here
[LINK]
Armageddon weather widget here
[LINK]
Comments:

4

0

0
Details
| | |
| --- | --- |
| Category | DesktopX Themes |
| Uptime | 1 decade |
| Submited: | 19.02.2010 |
| Resolution: | 1680x1050 |
Statistics
Social
---
Awards: