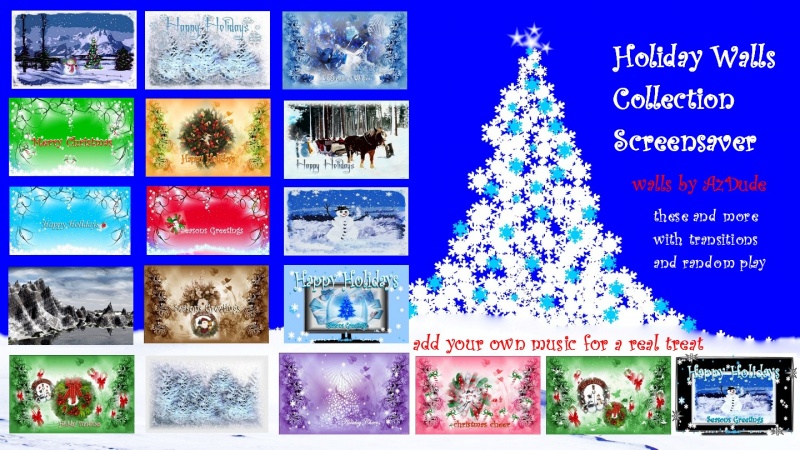 Holiday Walls Collection ScSv
By
AzDude
---
Holiday Walls Collection ScSv 2pk
by azdude
Screensaver Includes:
my favorite Holiday Walls
@1920x1080 Hi-Resolution
shown at a 15sec. duration each with asst.
special effect transitions between ea.
each loop plays a random order ... Enjoy - make this a great ScSv by adding your
own favorite Holiday Music Mp3 .wav etc.by
going to ScSv settings after install and
click on background Music tab and add all you want ..
Zip Includes:
windows installer(recomended)
2 ways to install:
easy to install just: 1-click on the application icon
after you open the Zip or 2- check unzip and install
screensaver as the zip opens ...
either way works - takes seconds ..
and it loads itself ... then click on settings
if you want to make any changes ...
giving you controls over various features
clock or no clock change speeds
sound or no sound or add your own favorite
music mp3 - and/or your own sound effects
and the wallpaper etc. ck it out ..
also included:
1 desktop quick launch icon
** no clock included in this ScSv **
Comments:

0

0

0
Details
| | |
| --- | --- |
| Category | Screen Savers |
| Uptime | 1 decade |
| Submited: | 05.12.2009 |
| Resolution: | 1440x810 |
Statistics
Social