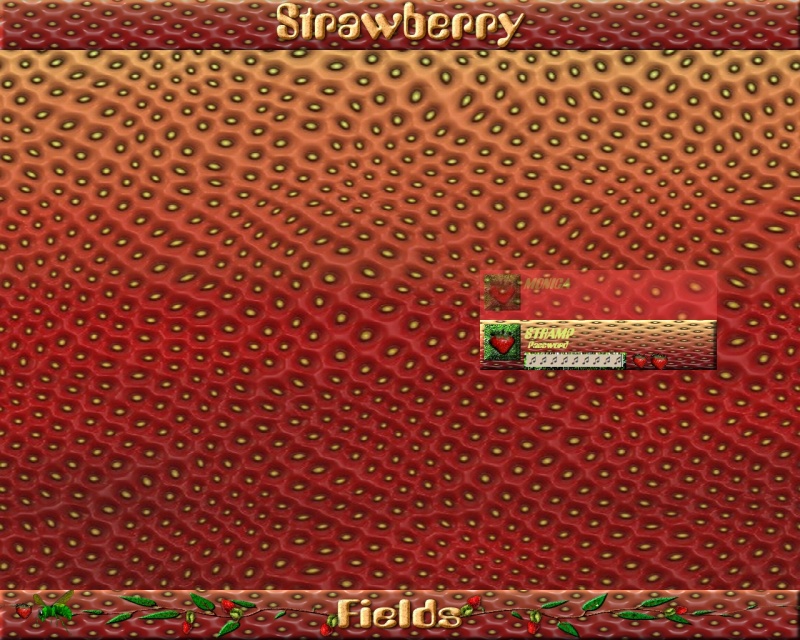 Strawberry Fields
By
stramp
---
Well this is what happens when your an X Hippie and people laugh about Strawberries. You stop everything your doing, lose the internet connection on three computers, your computer geek friend decides to fix his computer in the middle of the night using your computer as a Hard Drive to store his files and gets 13 trojans on it. And while your trying to maintain your composure you get it all back up and finish a STRAWBERRY LOGON @ 3'oclock in the morning after taking shots of Canadian Mist whiskey during a card game, and trying to prove you still got it! God's Truth! I did have fun tho! Hope you Love the Strawberries!!! 1280x1024 rez. User icon Bitmap_114 in the folder! Copy the font file beatles into your Windows System font folder after loading for the Correct font to display! And hopefully not after you've had too many shots! Thanks to the fellow skinners @ Skinnalicious for spurring me on! Strike up the band and Let me take you down to Strawberry Fields!
Credits to Filter Forge for some of the textures!
I'll tell you later about the Hornet!
Comments:

3

0

0
Details
| | |
| --- | --- |
| Category | Logons (XP) |
| Uptime | 1 decade |
| Submited: | 20.09.2009 |
| Resolution: | 1280x1024 |
Statistics
Social