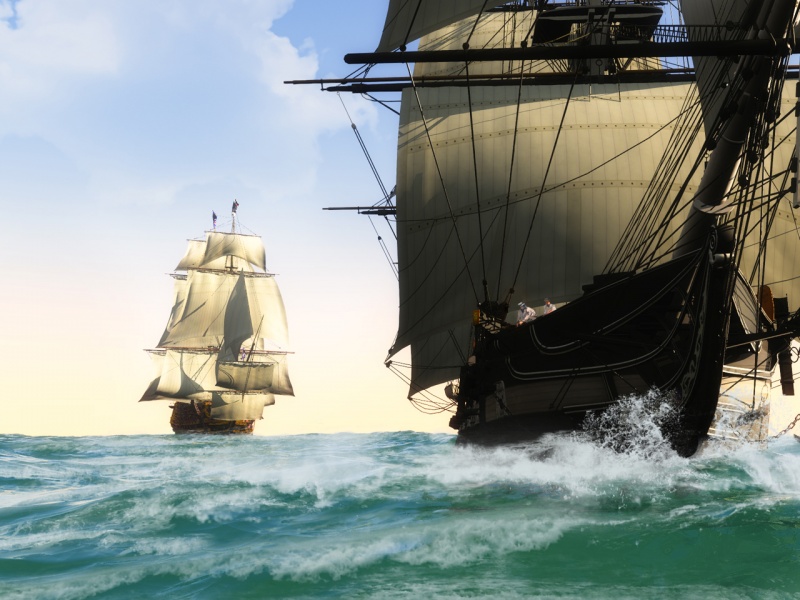 Off the Coast of Gibraltar
By
kenwas
---
The USS Constitution ventured into the Mediterranean in 1803 when she was only 6 years old. Her mission was to threaten and disrupt the activities of the Barbary Coast pirates. Although she was only a 4th rate by British standards (44 to 54 guns), she was very fast (13 + knots which is about 15+ mph) and carried more sail that most frigates of that class on her extremely large masts and yards. She carried a crew of 250 plus or minus.
The scene depicts the Constitution having passed by a British first rate (100 + guns) ship of the line which had a top speed of 8+ knots 0r 9+ mph and a crew of 850. Although the British and Americans were at peace at this time, the British would have a keen interest in this super frigate of the young American Navy.
A few years later, 1812, they would have the opportunity to find out exactly how troublesome this ship could be. They would lose 4 engagements to her in that brief war.
Full view suggested
Vue 7.5, Poser, Painter
The zip contains 1600x1200, 1280x960, 1024x768, 1680x1050, 1440x900, 1280x800, and 1280x1024.
Comments: