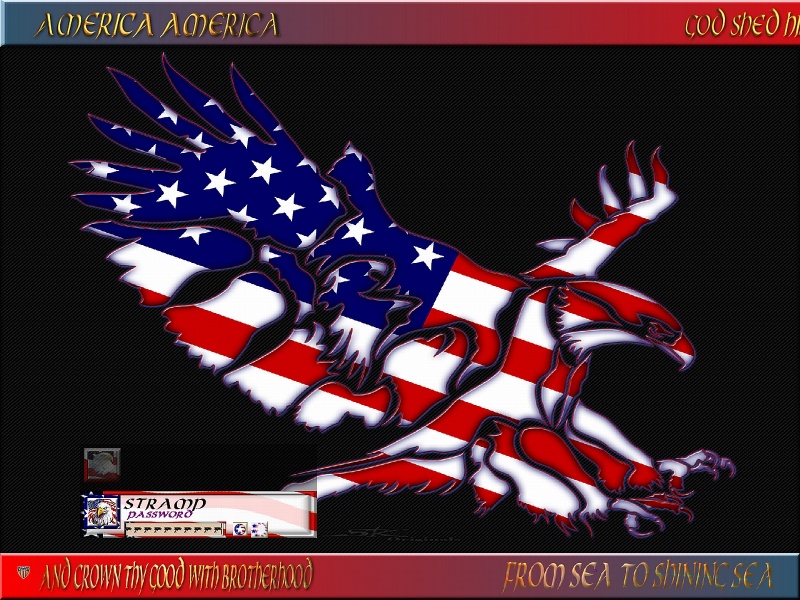 American Eagle_Dark
By
stramp
---
UPDATED For Memorial Day!!! I want to personally thank all our service MEN/WOMEN and VETS for their sacrifices For OUR Country. Please support them! American flag for the password panel now coded in! American Eagle Render from the wallpack of the same name By SK originals! Excellant patriotic wall by a talented artist. All credit to him and many thanks for the permission to use. This is the logon to go with the Independance Day suite by Xiandi. You can download her blind here-
[LINK]
Many thanks also to Pumakitten for support and testing and to Picatortus for coding help and advice! 1600x1200 res. 3 user icons included- Bitmap_114, 114b,114c! Font included, after loading copy the font file Fifth Century Caps to your Windows system font folder for the correct font to display.Permission in the folder.Hope you all enjoy your Memorial Day holiday!!!
SKoriginals wallpack-
[LINK]
Update! mikeb1954 Desktop Sidebar for the suite is available here-
[LINK]
Since our site's been hacked I will try to update the links to were all the skins are.
Update Pumakitten's XION player is here @ WC-
[LINK]
It is totally awsome!
Another link to mikeb1954's destop side bar-
[LINK]
Rick JP's Bootskin available here-
[LINK]
Cursor by Dillinboss soon to be released!
Comments:

2

0

0
Details
| | |
| --- | --- |
| Category | Logons (XP) |
| Uptime | 1 decade |
| Submited: | 22.05.2009 |
| Resolution: | 1600x1200 |
Statistics
Social