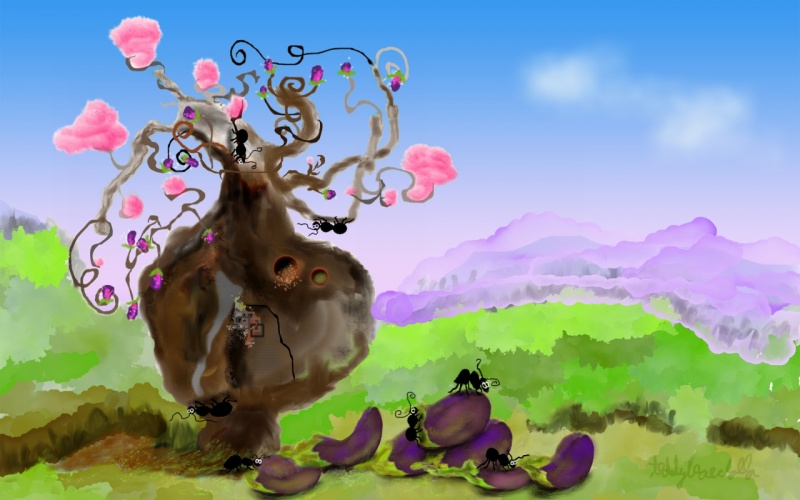 Aubergining
By
teddybearcholla
---
....Beyond Giorgios other mountains, across the Purple river, in a land far, far away....well how far
away you ask....Pretend you are having a dream ( not a nightmare, that is entirely different), and in
this dream you are flying through the galaxy, somewhere beyond Saturns rings, beyond the Isle of
Toast, and the Planet of Eye and given that the time continuum is exactly apple Pi times 1 trillion
and ten.....you will suddenly find yourself in the land far far away!!
....So I am in this land and I discover it is the home of the one and the only Aubergining tree known
to exist. As you can see by this photo I took ( old Sony digital, uses floppy discs, takes odd
photos), there are small creatures and they are watching me very closely. Do you see the one on the
lower left? And did you notice the Aubergining tree is in bloom, with young fruit also on the tree
and old fruit on the ground...the scent is wonderful...kind of
like*strawberryapplepiecinnamonbanananutbread* with a hint of
*rosemarygarliclemon*...mmmm....mouthwatering and it could also be why those creatures are staring
at me....time to take my camera and ruuun!!!!!
Another word game with my best friend
[LINK]
. We haven't done one of these for quite awhile. The premise is, we take a *fake* word and then do a drawing about that word. This time the word was *Aubergining*. And here is Annas painting, it will surely make you smile!!! ...
[LINK]
My painting is done in twistedbrush ...using both mouse and wacom.
Thanks for watching!!! tbc
Comments: