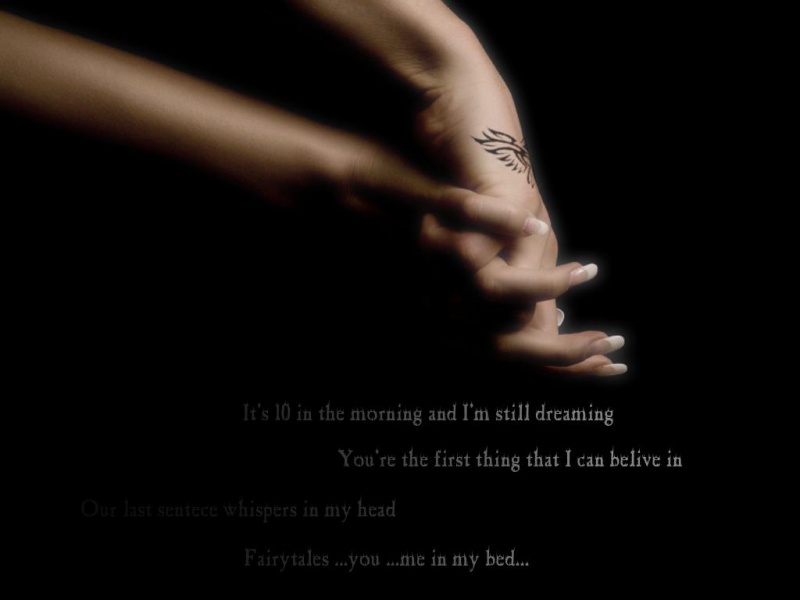 Together
By
bgaby88
---
Here is the whole lyrics of Bgaby88 - Like You Love me
Cuz' every time when I look into your eyes
nobody does, but you make me realize
All my life I was searching the truth
all my life I've been waiting 4 you
You make me laugh,You make me smile
You take the care and guard me while
I fall asleep and love with you
Heaven tells me this is true...
I look at you and I make a wish
i close my eyes and make my release
when you dream I dream with you too
all I dream about, You already have, You do!
see? ......I'm near...,
I'm in the best place to be
with your arms around me-with your wings upon me
nothing wrong will be
Angels tear will fall from the sky
On The day you'll say good bye
I'll never turn my back on you
Please swear that U will never do
Now that I found you deep inside my soul
Please never let if foul!
C'mon let's make it right
just you and me tonight
It's 10 in the morning and I'm still dreaming
You're the first thing that I can belive In
Our last sentece whispers in my head
Fairytales ...you ...me in my bed
I feel you every day, I feel your heart beating
with U by my side life 's just dreaming
'know I was blind but now's time 2 see
Nobody loves, like the way U love me
(backup of my old upload)