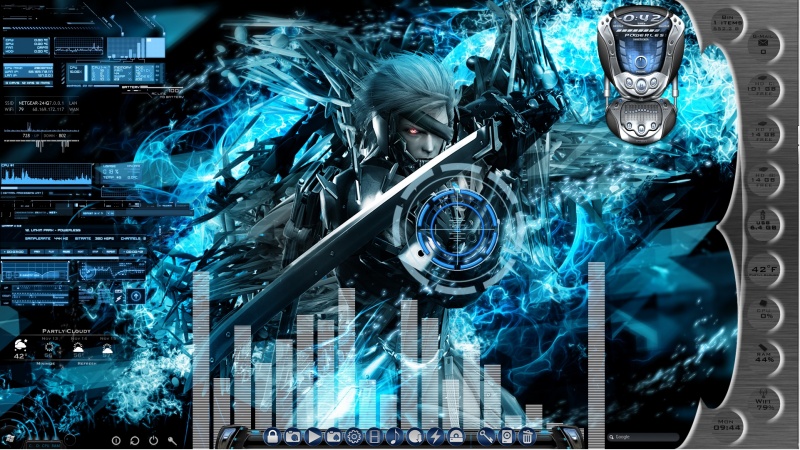 Metal Gear Rising Animated Desktop for Rainmeter
By
Ionstorm_01
---
This skin package was designed to fit a screen resolution of 1920 x 1080.
This Rainmeter Skin features a Custom Animated Targeting System that can be found HERE:
[LINK]
Credit for the skin goes to the original owners.
This skin is a collection of skins from various artists. It has their complete skins and hasn't been thinned down. The entire collections are featured in this skin.
Special thanks to SyanArt
[LINK]
for the use of the wallpaper. Used with his permission! Check out his gallery for more AWESOME artwork HERE:
[LINK]
This submission features a new skin of mine called 'Blade Sidebar' it is in BETA at the moment and can ONLY be run in 1920 X 1080 resolution. Sorry. When it is finished I hope to have '4' resolutions.
Blade Sidebar' includes:
Recycle Bin
G-Mail
3 Hard Drives
1 USB or Removable
Weather
CPU
RAM
Wifi Signal Strength
Digital Clock
Edit the .ini to change all variables.
Please comment & tell me what you think of it!
Wallpaper:
[LINK]
Rocket Dock Icons:
[LINK]
Rocket Dock Skin:
[LINK]
Animated Target:
[LINK]
GoogleBar:
[LINK]
Network & CPU:
[LINK]
Shut Down:
[LINK]
Weather:
[LINK]
Equalizer for Samurize:
[LINK]
WinAmp Music Player Skin:
[LINK]
If you download PLEASE COMMENT and let me know what you think about it. FAV if you like it!!!