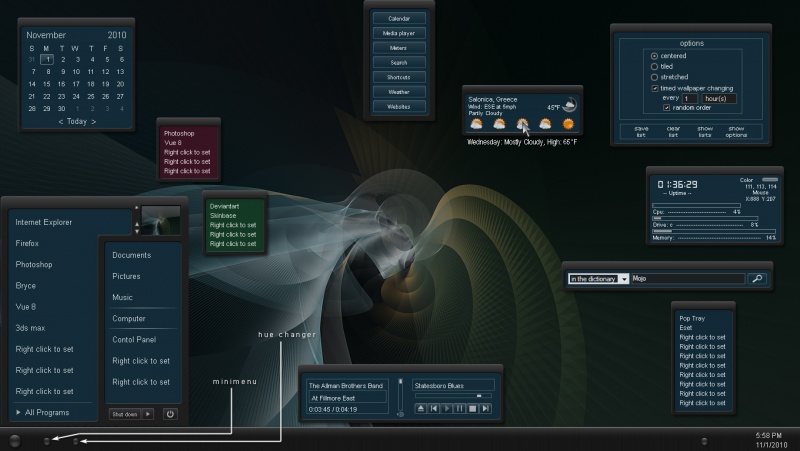 Mojo
By
Richard Mohler
---
*Full view please*
*Update added hue changer*
Supposed to be resolution independent so will see how it goes..If you have newest beta version of DesktopX things won't align right. All kinds of goodies to play with, have fun..Start menu might have a slight delay due to wallchanger connected to it, other than that everything should work fine.. To use wallchanger just drag jpg's or bmp's to small window then scroll through list till you find one you like then click on it to set as wallpaper. Just drag to desktop to remove picture from list.. You don't have to use timer unless you want your walls to change at certain intervals. Thanks to Martin, Tiggz, sViz & rabidrobot for scripts used..You need DesktopX to use theme you can find it here-->> [link]
Systray icons don't work so I put a bunch of shortcuts down there, so you can right click on them and set shortcut to programs that would usually be there..Shutdown DesktopX is next to other shutdown..Double click to close each back or just toggle on/off.
Also you might want to make a shortcut for DesktopX & put it in startup folder, since it won't start on it's own..
Thanks for all comments/views..

Comments:

4

1

0
Details
| | |
| --- | --- |
| Category | DesktopX Themes |
| Uptime | 1 decade |
| Submited: | 28.10.2010 |
| Resolution: | 1360x768 |
Statistics
| | |
| --- | --- |
| Views | 17753 |
| Downloads | 1847 (Today: 1) |
Social
---
Awards: