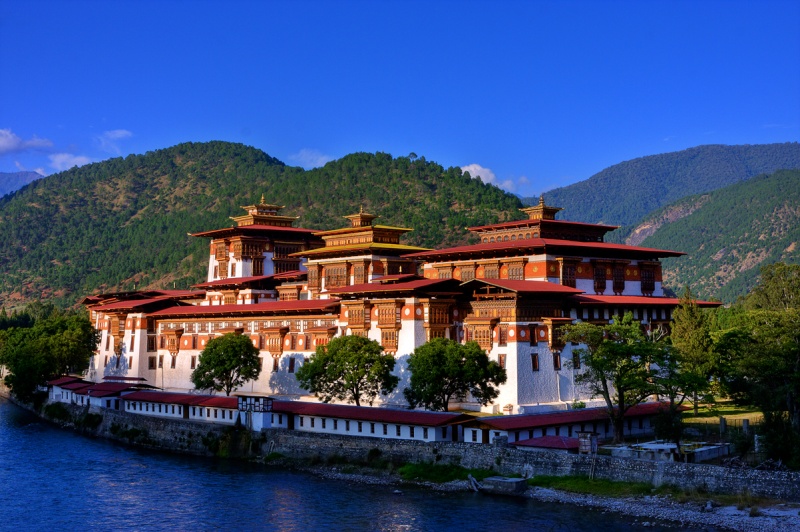 Punakha Dzong
By
ernieleo
---
Dzong architecture is a distinctive type of fortress architecture found in the former and present Buddhist kingdoms of the Himalayas, most notably Bhutan. The architecture is massive in style with towering exterior walls surrounding a complex of courtyards, temples, administrative offices, and monks accommodation.
Situated on a stretch of land where two rivers – the Phochhu and the Mochhu converge, Punakha Dzong was the second Dzong to be built in Bhutan. The Dzong appears as a great anchored ship. Zhabdrung Ngawang Namgyel built it in 1631. It was named Punthang Dechen Phodrang Dzong or -the Palace of Great Bliss-.
Having been ravaged by fire, earthquakes and floods many times, Punakha Dzong has had to be rebuilt several times and always to the original specifications. It was damaged by fires in 1780, 1789, 1802, 1831, 1849, and in 1986. There was a massive earthquake in 1897 and a devastating flash flood in 1994 when the Dzongchhung, which houses the images of the Lord Buddha and Dupthob Ngagi Rinchhen was nearly washed away.
Comments:

0

1

0
Details
| | |
| --- | --- |
| Category | Photography |
| Uptime | 8 years |
| Submited: | 19.01.2010 |
| Resolution: | 1202x800 |
Statistics
Social