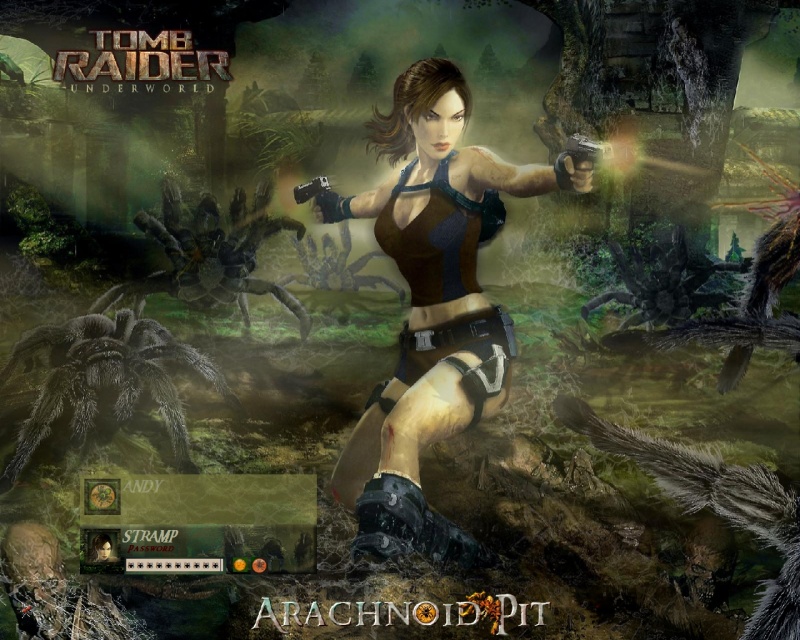 Arachnoid Pit_v2
By
stramp
---
UPDATED APRIL 27!!! Arachnoid Pit tr render by Kissbite in a Logon StudioXP logon!
Kissbite's Gallery-
[LINK]
In the new upcoming game Underworld Lara has to deal with an insect problem. Looks like more is called for than a can of Raid! Credit to Kissbite for this great render. User Icon included as always- Bitmap_114 for your theme! Loading instructions: Download this to your desktop, don't unzip! Open Logon Studio and click load, search for the zip file on your desktop and select it. it will load into Logon Studio. You will see the logon apear in the preview panel. Font included, After loading, go to the Arachnoid folder in Logon Studio and copy the font folder RINGM into your Windows System folder for the custom font to display in your logon.The Itsy Bitsy Red Spider on the bottom bar is the shutdown button! Tiles by Knapp.Get ready for some Arachnoid fever!
UPDATED!!! NEW VERSION!!! Feb18 09 redid buttons, added extra user icon- Bitmap_114b, Added graphics to bottom tittle, Recoded to show spider in the password panel, and redid the TR Raider tittle with custom lettering. Not for those of you with Arachnophobia!
Comments:

2

0

0
Details
| | |
| --- | --- |
| Category | Logons (XP) |
| Uptime | 9 years |
| Submited: | 06.10.2008 |
| Resolution: | 1280x1024 |
Statistics
Social