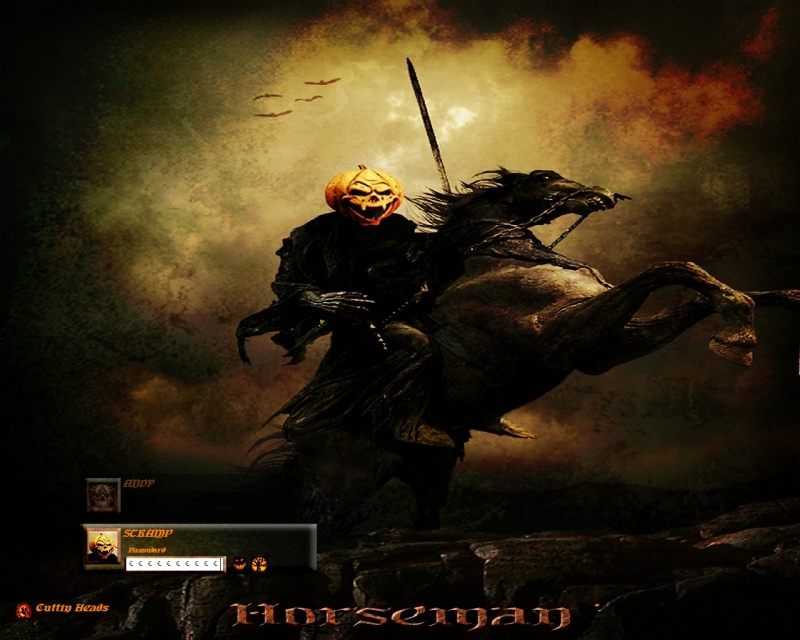 Horseman
By
stramp
---
UPDATED May 3!!!The Headless Horseman By Chris Rawlings @ Deviantart.
His Gallery-
[LINK]
This amazing artwork depicts the ride of the story of The Headless Horseman . A well crafted and atmospheric work! All credit to Cris for this wonderful work! And many thanks for the permission to use. Chris has an excellant gallery @ Deviantart.
This is a 1280x1024 rez logon. User icon included in the folder_ Bitmap_114. Font included, after loading copy the font file BAYERN into your Windows system font folder for the custom font to display. I have included a wall in the folder for your desktop! Buttons are actual lit pumpkins! Hope you all have a SCARY Halloween! wallpaper included in the folder if you wish to use for your desktop or you can download the render @ Deviantart link.Password ding now coded in. Prose I believe is by Chris.
It was in the depths of winter
On the langest nicht o th year
That the heidless horseman made his ride
Throe the glen o Balquiddhir,
An oooh the people o the glen
Wad blether, quake and fear
When the heidless horseman was aboot
On the langest nicht o th year.
One year, tis told, fog shrouded the glen
An not a single star illumed
The road as a lone traveller set oot.
That foolish man was doomed.
Because just aforem, a cart arrived
Laden wi oatmeal, sporrans and French wine,
A flitch of Ayrshire bacon
And a crate of kippers from McAuliffes smokehouse on the banks o Loch Fyne
Aye, all the cargo was intact
But no driver held the reign.
The innkeeper and ostler warned that traveller
But he responded with disdain,
No heidless horseman can frighten me
In some lonely Scottish gorge,
For I have fought the foreign foe
In the cause of Good King George.
Awa he strode intae the mist
And was quickly lost from sight.
And none may tell what happened next
Upon Winter Solstice night.
For the man was found the next grey morn,
His brain scrambled like eggs,
And a considerable number of large, hairy warts
Had grown upon his legs..
So if you ever venture
Tae the Glen o Balquiddhir
Keep well clear o the heidless horseman
On the langest night o th year.
Comments:

1

1

0
Details
| | |
| --- | --- |
| Category | Logons (XP) |
| Uptime | 9 years |
| Submited: | 22.09.2008 |
| Resolution: | 1280x1024 |
Statistics
Social